Dr. Comfort Shoes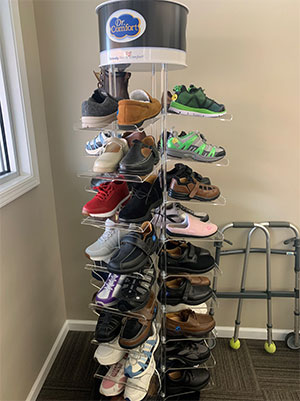 What is Diabetic Footwear?
Diabetic footwear is specifically designed to address conditions such as poor circulation, neuropathy, wounds and ulcers, skin irritation and other discomfort in patients with diabetes.
Dr. Comfort Diabetic Footwear
In our practice, we offer a full line of Dr. Comfort footwear. Since 2002, Dr. Comfort has been a leader in diabetic footwear, offering the very best in design, comfort, technology and quality.
While most diabetic shoes are usually considered clunky and unattractive, Dr. Comfort shoes do not look like typical diabetic footwear. They are very fashionable as well as functional and comfortable.
Our Dr. Comfort line of shoes and sandals come in various colors and their styles range from everyday, to athletic, to special occasion. We even offer diabetic slippers, as people with diabetes should never walk barefoot-even around the house.
We have Dr. Comfort shoes for all occasions, as well as sandals, socks, slippers, compression hosiery and more. We also offer custom prescription orthotics that are created from 3D imaging of your actual foot. Custom orthotics and designed to modify shoes to reduce pressure and friction, make walking more comfortable, and distribute weight more evenly.
Dr. Comfort shoes are also constructed with features to make living and ambulating with diabetes easier such as:
High quality materials
Superior construction
Styles that are easy to lace
Wide width options
Removable inserts
If you have diabetes, talk to us about Dr. Comfort shoes and accessories to learn more about why they are superior to ordinary diabetic footwear, and to see our catalog of products.
Listen to Dr. Sheridan discuss further about this topic here: