Foot And Ankle Conditions For All Age Groups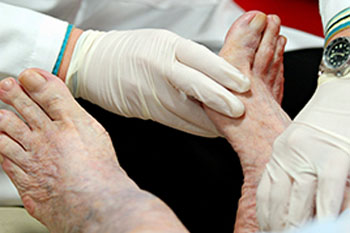 Steven L. Sheridan, DPM has over three decades of experience treating foot, ankle, and lower leg conditions for patients of all ages—from babies to the elderly, and everyone in between.
Not all podiatrists have experience in children's foot care. Dr. Sheridan, however, treats many young patients: babies, toddlers, adolescents and teenagers. Whether it is a congenital disorder, an overuse injury, a fungal or ingrown toenail, flat feet, heel pain due to growth spurts, a fracture, an ankle sprain, athlete's foot or plantar warts, Dr. Sheridan has the skills and experience to treat children's foot conditions effectively. What's more, his easy bedside manner helps put even the most apprehensive child at ease.
Of course, Dr. Sheridan treats adults of all ages, and the elderly are no exception. Quality geriatric foot care is essential to older adults maintaining their mobility and independence as long as possible. Dr. Sheridan offers comprehensive geriatric foot care from trimming toenails to helping manage arthritis, to correcting hammertoes and bunions, to dealing with complications due to diabetes including wound care. Dr. Sheridan also offers diabetic footwear and custom orthotics.
Listen to Dr. Sheridan discuss further about this topic here: